Sharing Information about Our New Building Project
Planning Permission, Internal and External Layout
We submitted the planning application documents for our new building to Sevenoaks Planning Department in January and planning permission was granted in March.
Here's the internal layout. Each of the three main rooms are larger than its existing counterpart. And you're right, that is an outside sink under the canopy straddling the Toddlers and Pre-Schoolers rooms.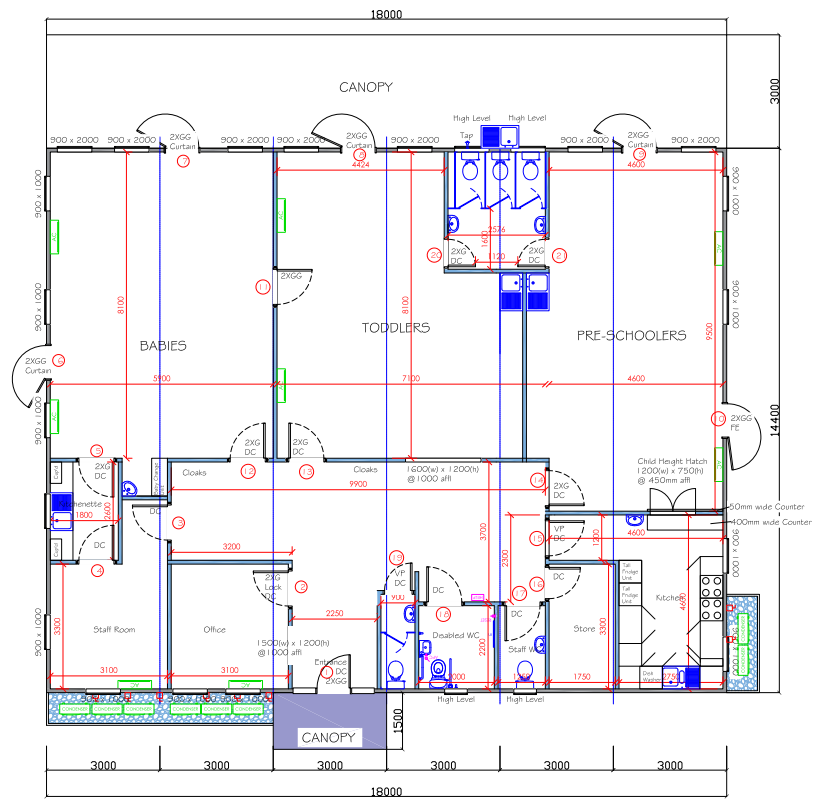 And here's how it fits into our new site (bounded by the red line) and the Community Centre site as a whole. We'll be keeping (and using) our existing Club Room.
We have discussed at length the baby room canopy and the advantages of having a conservatory rather than an open sleep canopy. It has been decided that a conservatory would be a much more useful area because whilst a canopy offers protection for sleeping babies during all weathers, a conservatory will provide a much more secure place that can be used in many different ways by our young babies. We will therefore need to go back to the planning department for an amendment to the drawings. Although this can be done at a later date and will not affect the rest of the build. However, the ground works for the conservatory will be completed during the build and signed off by building regulations in readiness for the conservatory. We are also in the process of applying for grants to support the conservatory build.
This isn't our building below, but it'll give you some idea of the cladding we've chosen (it has been chosen partly to fit in with the intended improvements to the Community Centre). Our windows at the front of each classroom will be (almost) floor to ceiling.
Please share with us your thoughts and any suggestions you may have as the building project progresses by speaking with the Staff Team or emailing rosalyn.coulstock@sdn.org.uk

Thank you for supporting Sevenoaks Day Nursery